SKTOOL - Simulation smart key system Honda and Yamaha
Program when all keys lost on the table

Test smart key control unit ( smart box)

Pay with Paypal

Shipping by DHL

Warranty 6 months

Made in Vietnam

In stock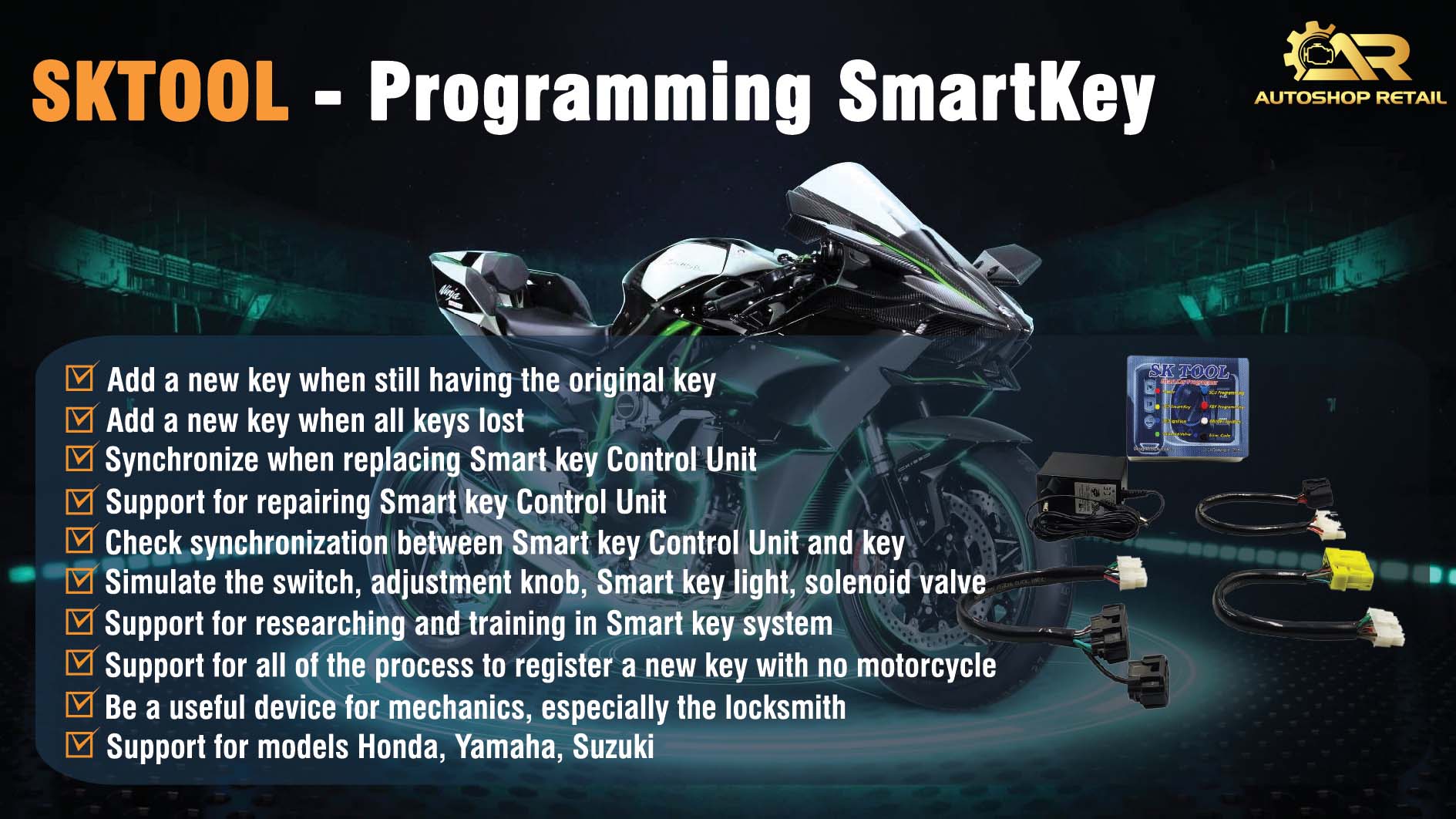 SK TOOL - The equipment in programming, repairing, testing smart key system
List function
Learning, Researching, training smart key system

Convenient in repairing Remote Key system

Quick test smart box, FOB – Remote

Simulate Input, output of smart box

Replace the smart Key cable

Program all mode without bike

Great & mobile tool for all locksmiths

Support for HONDA and YAMAHA

Simulate the input, output, power of smart Key control unit: switch, light, Ig lock…

OFF the lost keys

Add key by key

Register key by code (KEY ID)

Replace new smart box

Power supply

Test smart box short or open circuit
List support:
HONDA: AIRBLADE (2018-2020), CLICK 125i (2018-2020), LEAD 125 (2018-2020), PCX (2016-2020), SH 125/150/300 (2016-2020), SH MODE (2016-2020) ), VISION (2018-2020), VARIO 125/150 (2018-2020), X-ADV 750, FORZA 300 (2018-2020).

YAMAHA: AEROX (2018-2020), GRANF FILANO, JANUS (2017-2020), NVX (2017-2020), QBIX, XMAX, T-MAX 530i, T-MAX DX, T-MAX SX SPORT, T-MAX IRON MAX.

SUZUKI: RAIDER FI (2017-2020), GSX FI (2017-2020)
List of accessories
01 Sktool

01 Honda cable 1

01 Honda cable 2

01 Yamaha, Suzuki cable

01 adapter 12V/2A
  Our target is to provide you with a simple, easy and convenient shopping experience. Welcome to us!
10. Contact information
11. After sales service
Almost all items are warranted for one year.

We also provide free repairing services for almost every item we sold within a year. Errors caused by customers will cost.
12. Shipping warranty:
Shipping by DHL, UPS, EMS with no Tax. Shipping time is from 3 to 5 days

If you do not receive your item on time, please contact us to check the status of the package on time: +84919 054 691
13. Technical services:
When upgrading software: If you cannot upgrade yourself, please install the Teamviewer remote control software, our technicians will assist you. Link to download the software: https://www.teamviewer.com/en/. Install it on your computer, then give us the ID and password for remote assistance.
Reviews
Item Rating:
5
average based on 1
rating.
---
You're reviewing "SKTOOL - Simulation smart key system Honda and Yamaha"