SMARTTOOL - ECO - Tool programming smartkey and ODO
Supportted All keys lost Forza 350 (K1B), Forza 250 (K40H), Piaggio PGU09, PGT10, PGQ16 (RISS)

Free use ALLMOTO app

Pay with Paypal

Shipped by DHL

Warranty 12 months

Updated: 12 months free

Made in Vietnam 


Ready in stock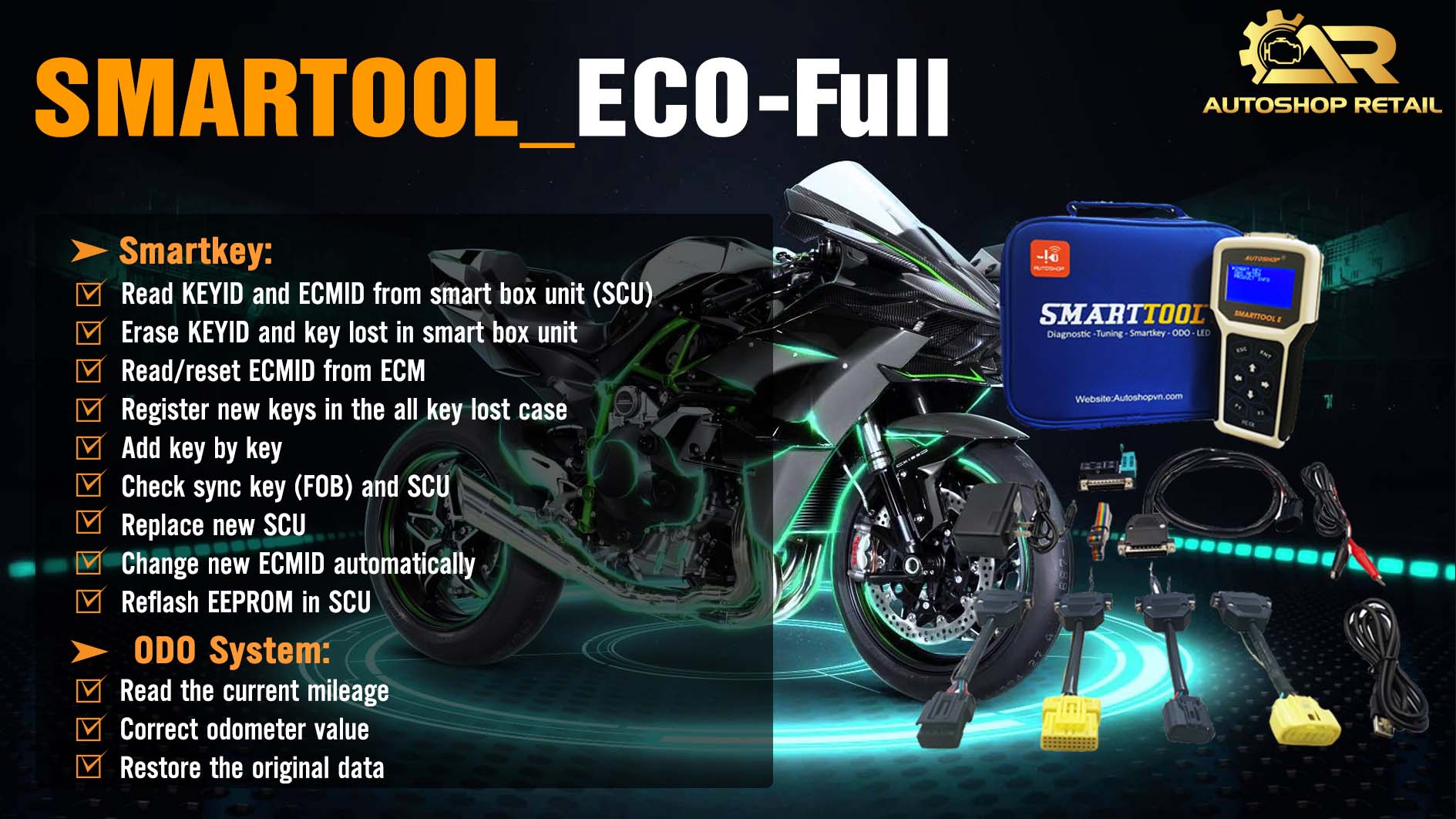 Lock security technology on motorbikes is always changing to response of safety and convenience. The first, recently the magnetic lock security technology (immobilizer) on Piaggio/Vespa motobike, the smartkey smartkey technology equipped on Honda, Yamaha and Suzuki models is increasing widely and popularized. With advantages in terms of technology, beauty, aesthetics and most importantly safety, maximum anti-theft and very effective. ID code reader and smartkey programmer SMARTTOOL2 - ECO is a device package that includes the function of reading and programming smartkeys, magnetic locks and correction of electronic speedometer (ODO) values. This is an economical choice for motorbike repair shops and especially for motorbike locksmiths

Device with simple interface in Vietnamese language, easy to use

Look up the connect location instructions on the application installed on the phone ALLMOTO Technology transfer team, technical support

Multi-language : English, Vietnamese, Indonesian

Automatic update via internet, simple customer self-update

Free updates and 12 months warranty.

Domestic and foreign distribution agent

Support: HONDA, YAMAHA, SUZUKI and PIAGGIO.
1. Smart key/ Keyless Honda, Yamaha and Suzuki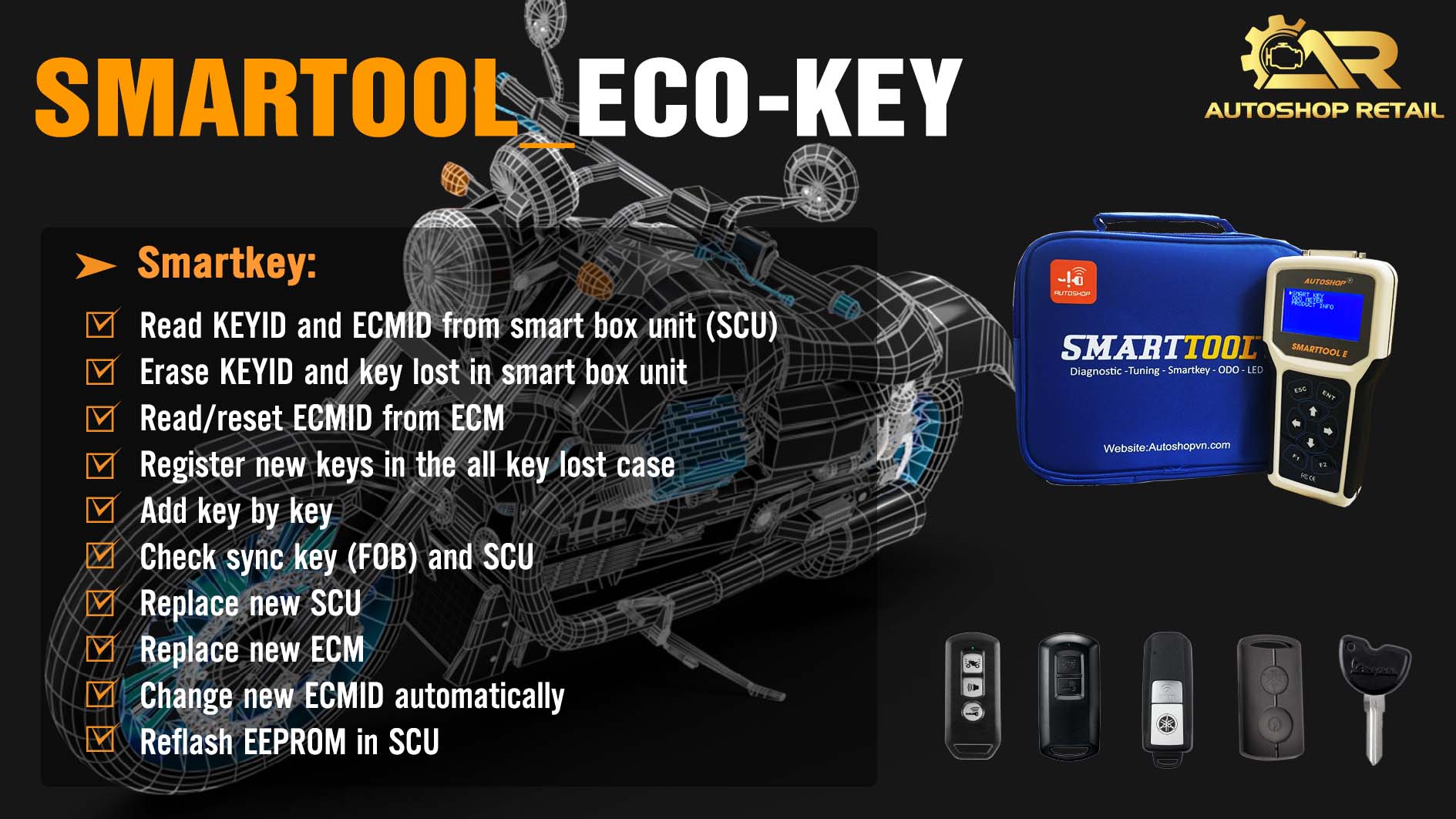 Read KEYID from smart box

Read ECMID from smart box

Read ECMID from ECM box

Erase key lost

Erase the missing key code

Reflash EEPROM data of smart box

Register new keys in the all keys lost case.

Add key by key

Check the synchronization between key and smart box

Change ON / OFF key status

Sync smart box and ECM automatically

Replace new ECM

Register up to 6 keys at once bike Honda
List of models: 
HONDA:

 AIRBLADE (2018-2021), CLICK 125i (2018-2021), LEAD 125 (2018-2021), PCX( 2016-2021), SH 125/150/300(2016-2021), SH MODE( 2016-2020), VISION (2018-2021), VARIO 125/150 (2018-2021), X-ADV 750, FORZA 300 (2018-2020), SCOOPY (2016-2021), FORZA 300 2021, X-ADV 750 2021.

YAMAHA

 : AEROX (2018-2021), GRANDE (2019-2021), FREE GO (2020-2021), LATTE 2020 , JANUS ( 2017-2021), NVX(2017-2021) , QBIX, XMAX, NMAX, 

T-MAX 530i, T-MAX DX, T-MAX SX SPORT, T-MAX IRON MAX (2015 - 2021)

SUZUKI

 : RAIDER FI (2017-2020), GSX FI (2017-2020)

Supported part number: K12, K44, K59, K66, K01, K02, K77, K78, K29, K36, K96, K97, K1F, K1R, K1N, K1Z, K1Y, K0R, K0S, K2C, K1B, K1W.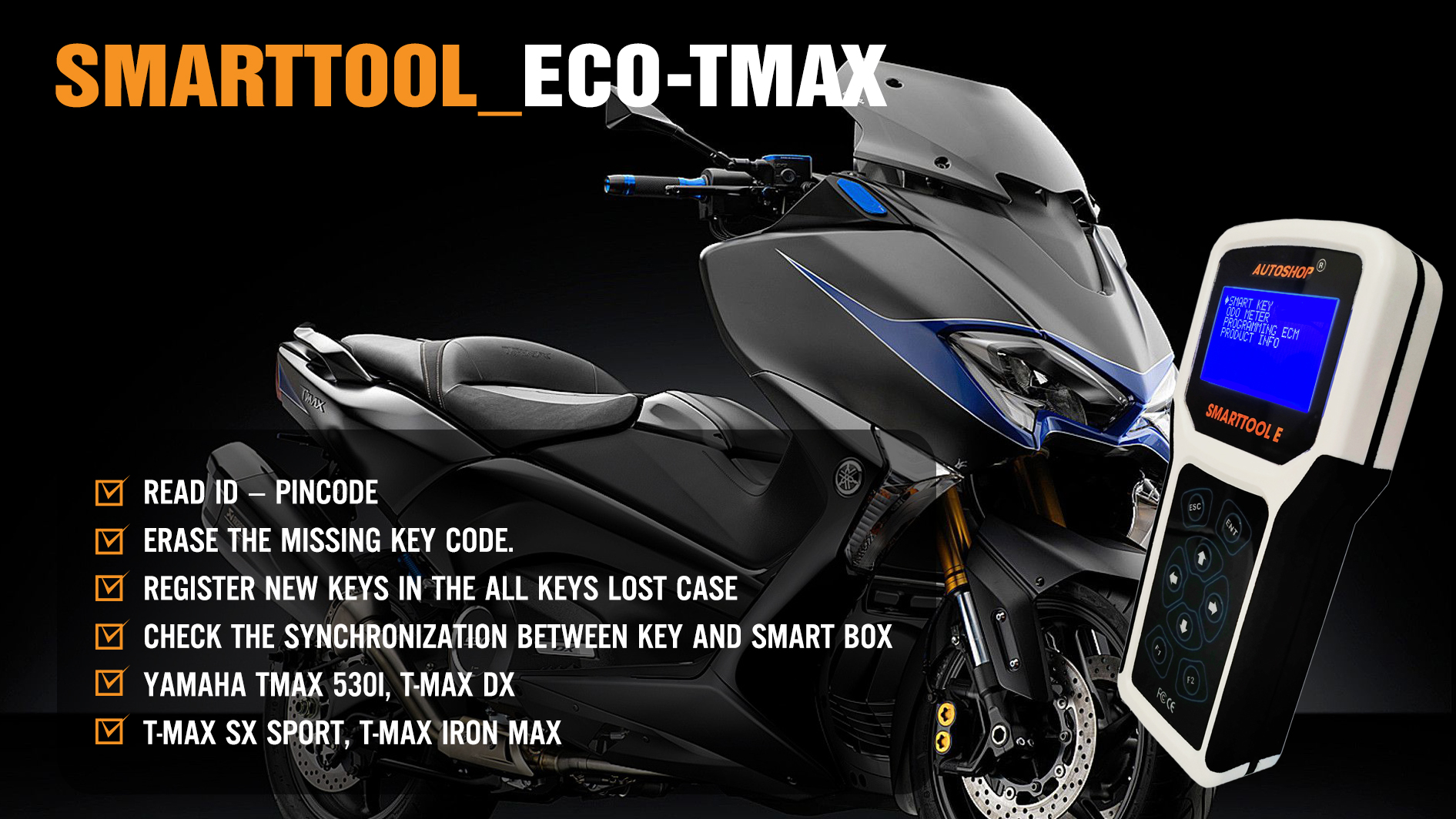 2. PIAGGIO/ VESPA 
Register the new keys in the all keys lost case.

Reset, erase all keys of IC / ECM.

Support register new keys.

List of supported ECU:AC13I, AC191, AC19I, AC20I, AC21I, AC23I, AC24I, AC25I, AC27I, AC32I, AC5I, AC8I, ACI600, AC601, ACI602, ACI603, ACII, AC2I, AC5I, AC8I, AC13I, MIU1, MIU2, MIU G3/RIU1, MIU4, PGN04/PGS02/PGT01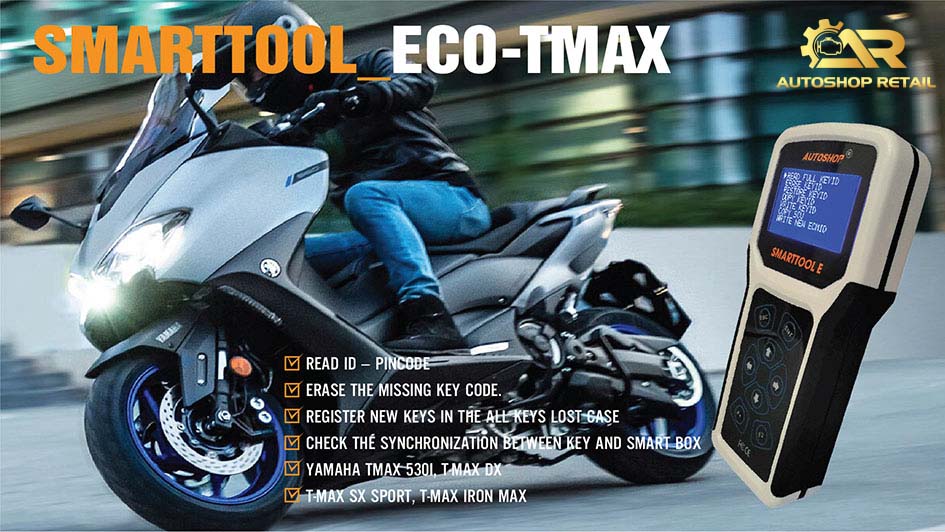 The detailed list

3. Odometer adjustment
Read the current mileage

Correct odometer value of motorcycle dashboard.

Restore the original data

Automatic correct odometer

All moto, motobike Honda, Yamaha, Suzuki, Kawasaki and Piaggio
List of models: 
HONDA

: Airblade (2013-2019), Airblade 125/150 2020, Click (2013 -2020), Forza 2018, Msx 125/150, Future Neo, Future X, Lead 125 (2013-2020), PCX( 2008-2019), PCX 2021, SH 125/150/300(2015-2016), SH 125/150(2017-2019), SH 125/150 2020, SH Mode ( 2015-2020), SH Mode 2021, Sonic 125, Vario 125/150 (2013-2020), Vision 2021, Wave 125, Winner 150, Winner X, Zoomer X, Scoopy 2018, XADV 2018, CUB, Beat 2018, Beat Stress, CBR 15DR/150/250, CBR 500/500F/650, CBR 1000/ 1000RR, CRF 250…

YAMAHA

: Aerox, Acruzo, Janus, Nvx, TFX, MSLAZ, Acruzo

, 

Exciter 150 (2014-2021)

, 

Fz150/150i/FZ16

, 

Grande

, 

Nouvo LX/4

, 

Nouvo SX/5

, 

Qbix

, 

R1/ R6

, 

R15/RR15D

,  R15 2016, R15 , 

Free Go 2019

, 

Nmax ABS

, Grand Filano, Xmax, Tmax, MT07, MT09, FreeGo, Latte, Vixion 2018

PIAGGIO/VESPA

: V4_ 50cc, V6_ 50cc, 

Liberty( 2017-2019)

, 

Medley

, 

Primavera (2017-2019)

, 

Sprint (2017-2019)

, 

Vespa 2020

, 

Có Logo _EEPROM_R5F

, 

Không Logo _EEPROM_R5F

SUZUKI

: 

An150

, 

En 150

, 

Raider (2012-2015)

, 

Gsx ( 2009-2015)

, 

Gsx Fi (2016-2019)

, 

Raider Fi( 2016-2019)…

KAWASAKI

: 

Z1000R/Ninja

, 

Z125, NINJA 250, VERSY 650, Z300, Z900

,

…
The detailed list

Functional table packages
4. List of accessories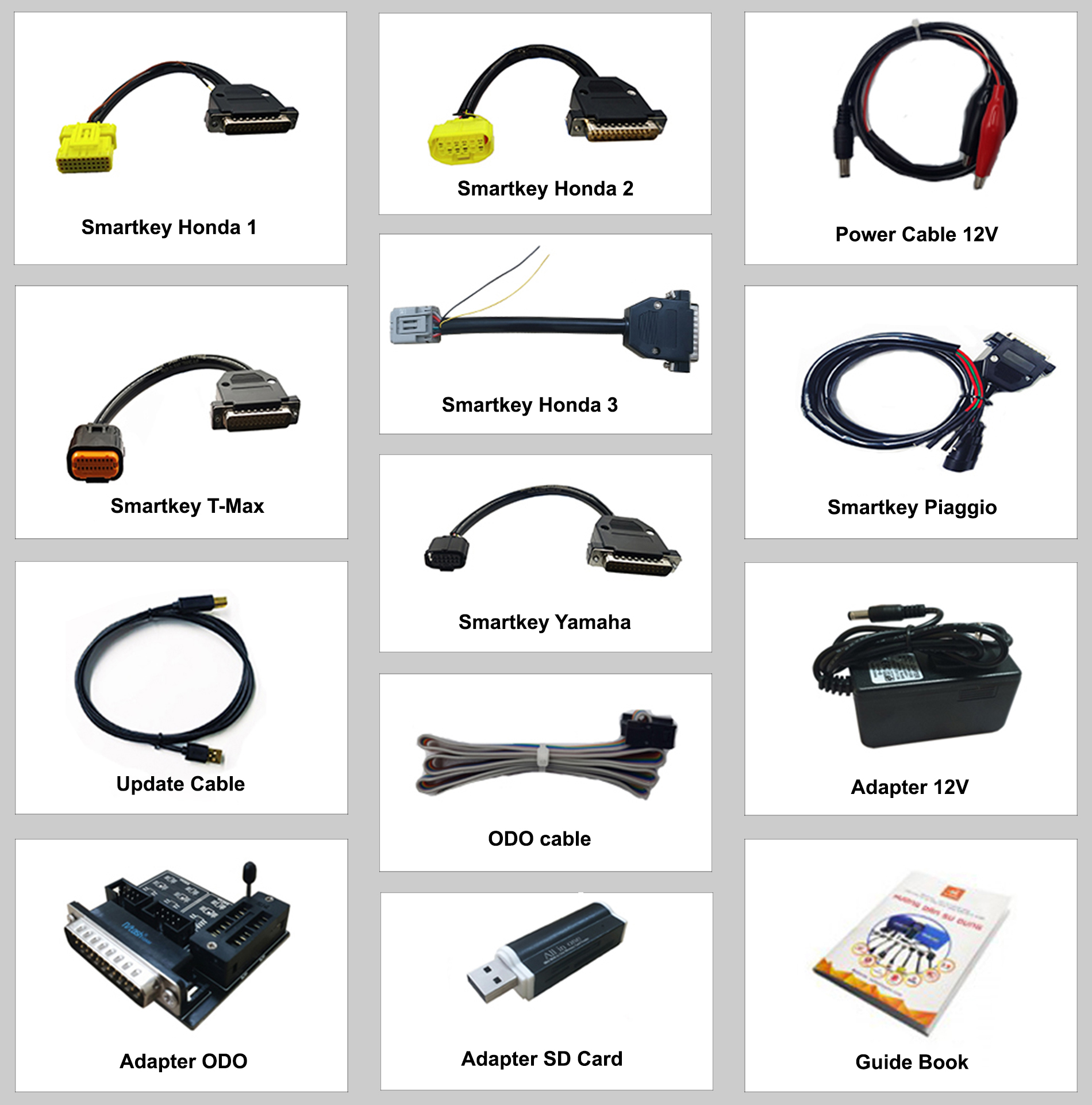 Our target is to provide you with a simple, easy and convenient shopping experience. Welcome to us!
10. Contact information
11. After sales service
Almost all items are warranted for one year.

We also provide free repairing services for almost every item we sold within a year. Errors caused by customers will cost.
12. Shipping warranty:
Shipping by DHL, UPS, EMS with no Tax. Shipping time is from 3 to 5 days

If you do not receive your item on time, please contact us to check the status of the package on time: +84919 054 691
13. Technical services:
When upgrading software: If you cannot upgrade yourself, please install the Teamviewer remote control software, our technicians will assist you. Link to download the software: 

https://www.teamviewer.com/en/

. Install it on your computer, then give us the ID and password for remote assistance.
Reviews
Item Rating:
5
average based on 15
ratings.
---
You're reviewing "SMARTTOOL - ECO - Tool programming smartkey and ODO"