REMAPTOOL - Remap and tuning
Remap ECM Honda and Piaggio via Kline

Remap Honda Keihin, Shindengen ACG (ESP) from 2013 to 2021

Remap Yamaha Exciter, MXKing, Sniper 2015-2022 (Halogen, LED, VVA types)

Remap Suzuki Raider, Satria 150

Warranty and Update: Free 12 Months

Made in Vietnam

Payment via Paypal

Shipping by DHL, UPS about 3 to 5 days
List of model packages:
Option 3Y: Remap for Honda + Yamaha NVX/Aerox + Piaggio + Suzuki models 
Option 3X: Remap for Honda + Yamaha NVX/Aerox + Yamaha Exciter/Mxking + Piaggio + Suzuki models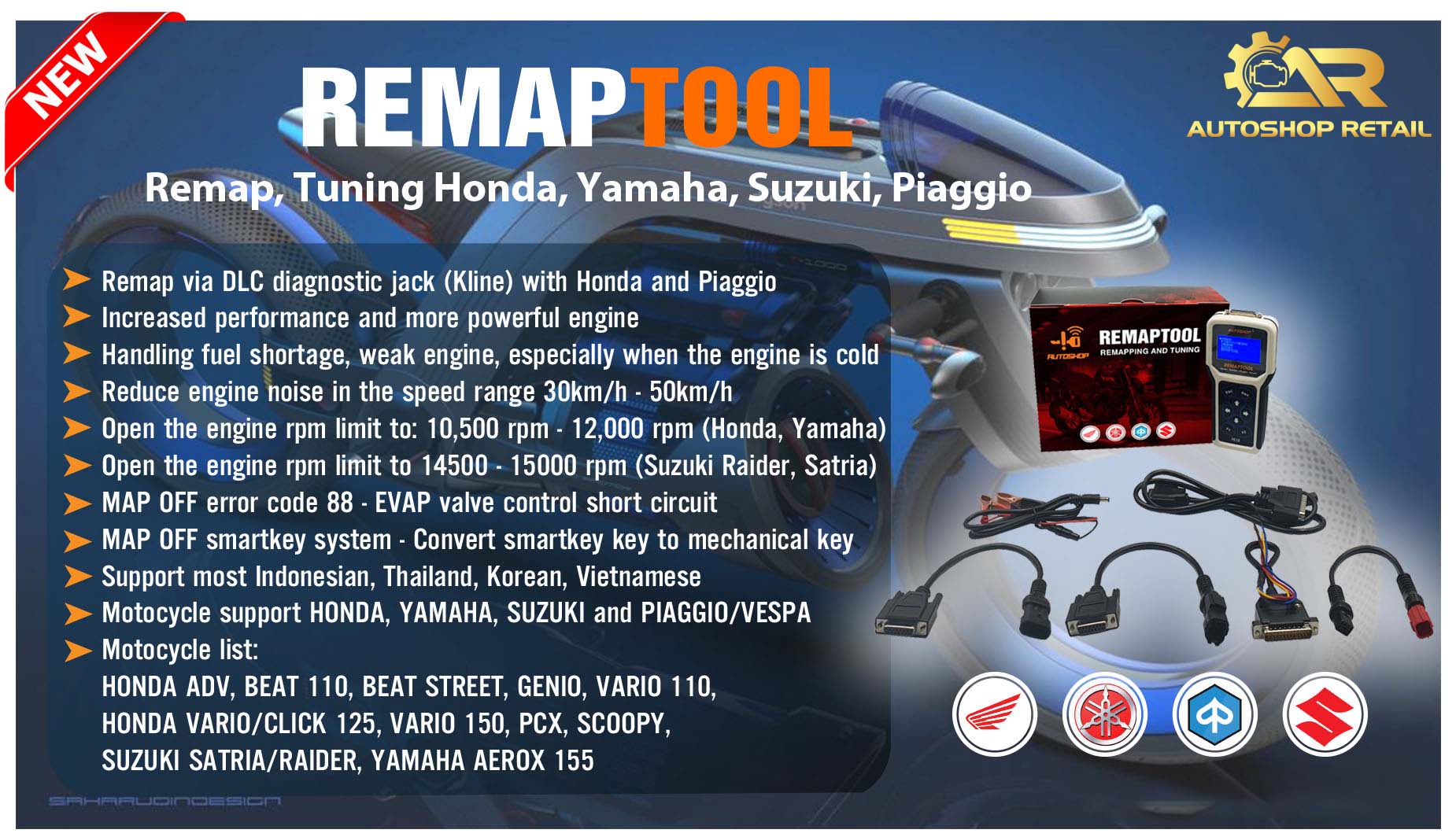 Remap via DLC diagnostic jack (Kline) with Honda and Piaggio

Increased performance and more powerful engine

Handling fuel shortage, weak engine, especially when the engine is cold

Reduce engine noise in the speed range 30km/h - 50km/h

Open the engine rpm limit to: 10500 rpm - 12000 rpm (Honda, Yamaha)

Open the engine rpm limit to 14500 - 15000 rpm (Suzuki Raider, Satria)

MAP OFF error code 88 - EVAP valve control short circuit

MAP OFF smartkey system - Convert smartkey key to mechanical key

Support most Indonesian, Thailand, Korean, Vietnamese

Motocycle support HONDA, YAMAHA, SUZUKI and PIAGGIO/VESPA

Motocycle list: 
--------------------------------
1. REMAP YAMAHA EXCITER, MXKING, SNIPER (2015 - 2022)
EXCITER 150, SNIPER, MX-KING 150 INDO (2015 - 2018): ECU 2ND0 & 2PV0

EXCITER 150 LED, SNIPER, MX-KING 150-LED INDO (2019 - 2020): ECU 2ND2 & 2PV1

EXCITER, SNIPER 155-VVA (NON SMARTKEY) (2021 - 2022): B5V1

EXCITER, SNIPER 155-VVA (SMARTKEY) (2021 - 2022): B5V0

Reset to New ECMID of ECU EXCITER , SNIPER155 (2021-2022): B5V0
2. Remapping for ECM Honda ACG – Shindengen 
Support to tune/remap for 22 types of ECM Honda ACG (2016-2021)

Include 300 MAP files with configuration from virgin motors to modified throttle, air filter, bigger piston, exhaust pipe, fuel injector,… 

Use MAP to turn OFF smart key state, change smart key into mechanical key (remove the second-factor authentication)

Use MAP to turn OFF code error – 88 when the EVAP valve is damaged, reuse ECM no need to change into a new one, save the cost Eliminate gas shortage, engine weakness, reduce fuel consumption

Help the bike can accelerate fast, smooth, light, reduce engine chatter and explosion behind the exhaust

Open the RPM limitation (rpm) up to 10500 – 12000 RPM

Optimize engine power, optimize air-to-fuel ratio (A/F) according to each speed range, environment, terrain, and driving style

Auto-Remap, no effect to ECM, simple, no need laptop or computer

All of the MAP files were run in real configuration, tested HP, tried by Dyno, optimized with AFR(optimize air-to-fuel ratio A/F)

List of supported: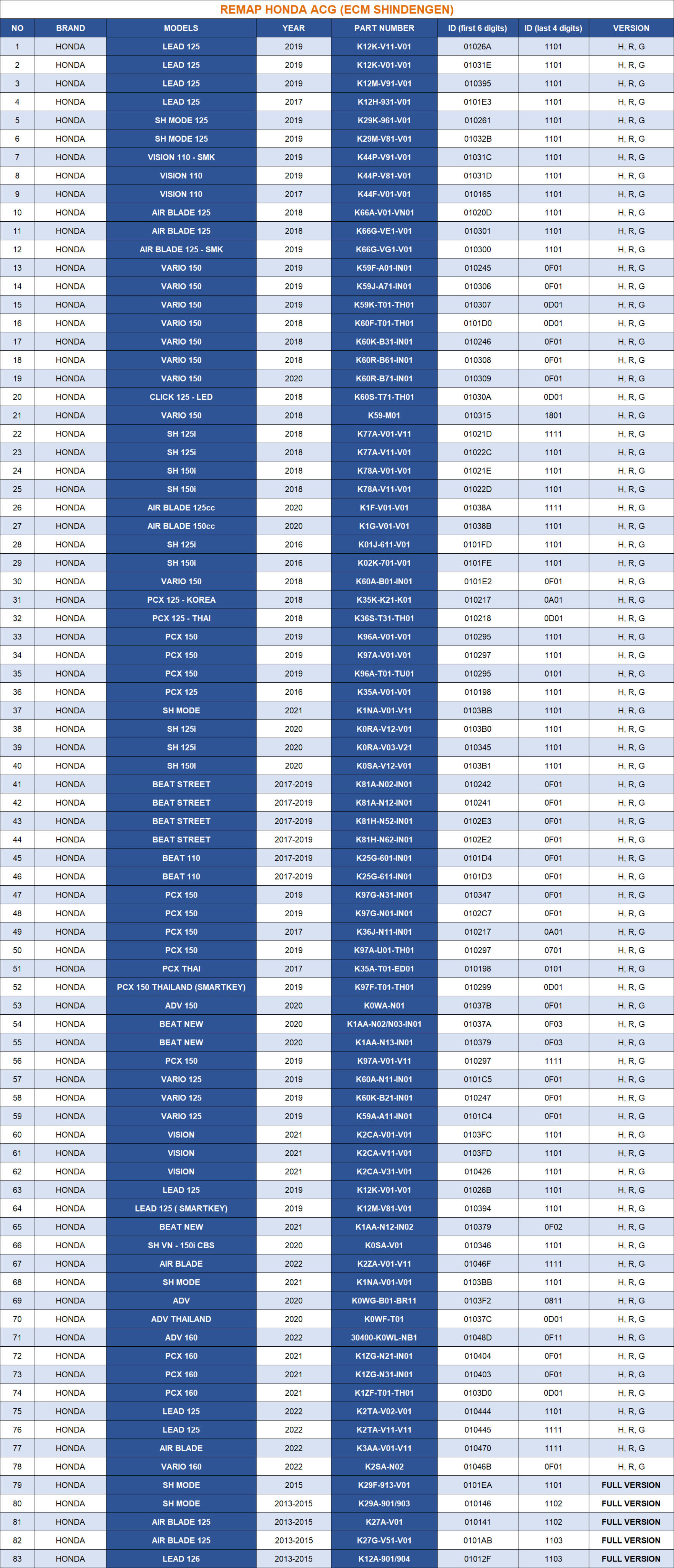 3. Remap, tuning and open RPM limit 
In addition to the normal functions as the device diagnostic, SMARTTOOL2 is also integrated with remapping and tuning technology, open RPM limit

Tuning or Remapping is the same. Tuning is the editing of the fuel and fire maps, Remapping is a refresh of the fuel and fire maps in ECM. Revolving is opening the rpm limit within the permissible limit to meet the mechanical part of the manufacturer

Adjusting the Air/Fuel ratio (A / F)

Improved engine performance in accordance with the different working modes and terrain conditions and operating environments of the motobike

Compensate for small mechanical wear (eg, injector mechanical ...) or error due to aging of sensor, leading to drift of sensor value range.

Handling some car fuel consumption cases high injection time, fuel saving, low Garanti

Open the rpm limit or return the manufacturer zin

For a different driving experience - more realism

Support remapping for Honda SH150i / PS150 entered (2007-2008) ECU code: 16400 - KTG -xxx

Support tuning for PIAGGIO ECM / ECU codes: 26M3G1HW and 28M3G1HW (see support list)

OFF the oxygen sensor with Piaggio / Vespa

Set the speed at idle (from 1500 RPM to 1800 RPM)

Height setting (above 2000m and below 2000m)

Reload original main data of the Piaggio / Vespa MCU vehicle
List of supported: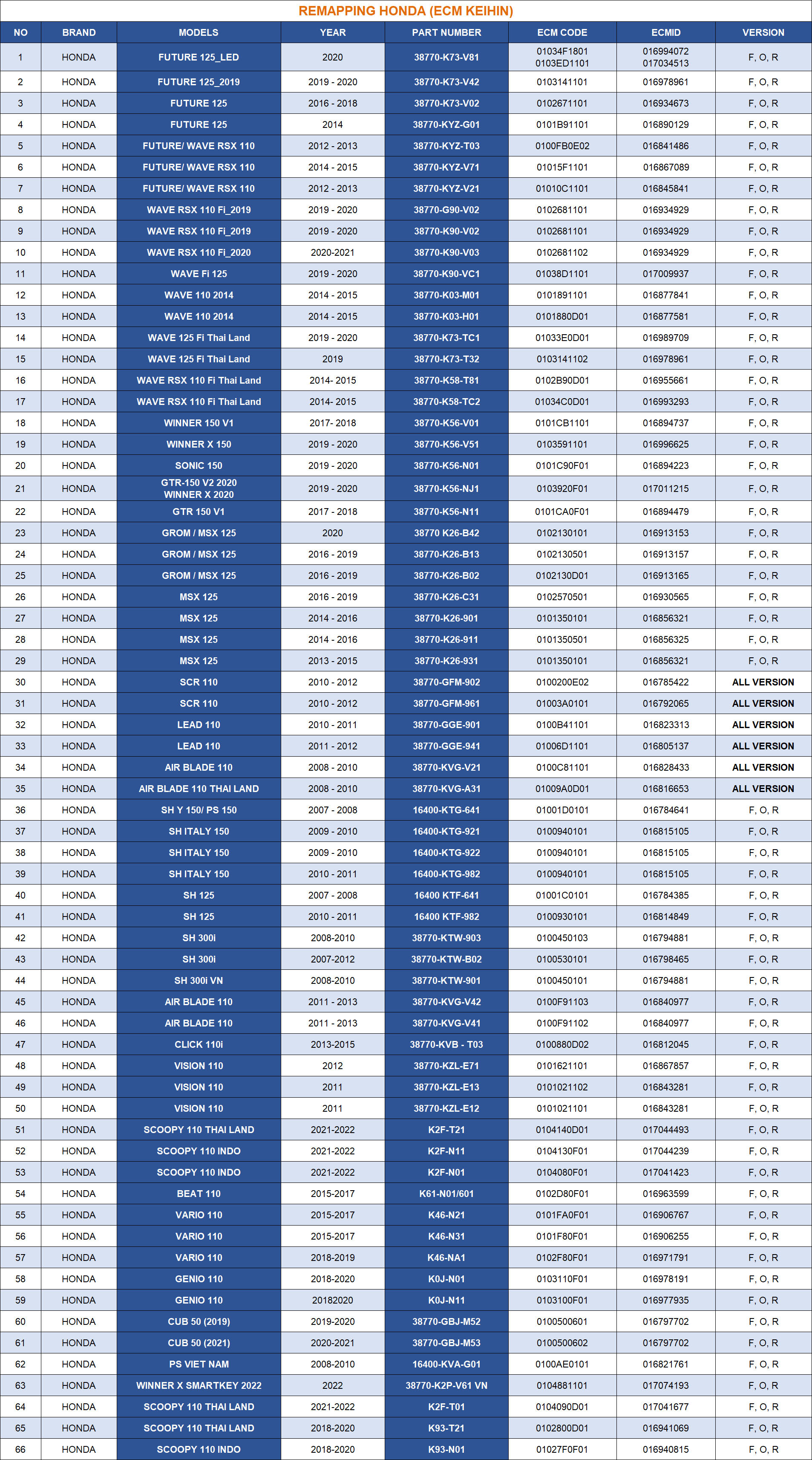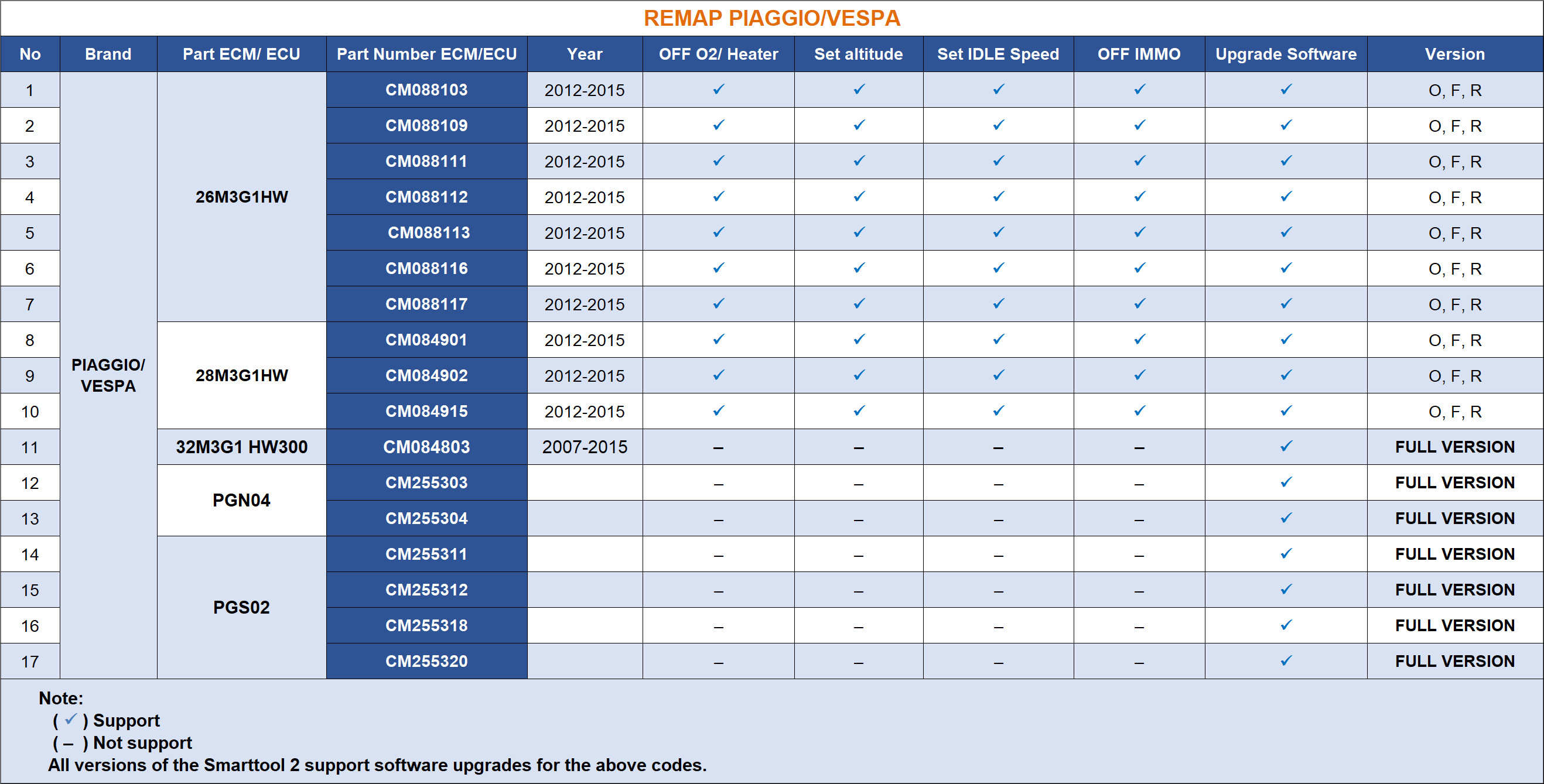 List of accessories
Our target is to provide you with a simple, easy and convenient shopping experience. Welcome to us!
10. Contact information
11. After sales service
Almost all items are warranted for one year.

We also provide free repairing services for almost every item we sold within a year. Errors caused by customers will cost.
12. Shipping warranty:
Shipping by DHL, UPS, EMS with no Tax. Shipping time is from 3 to 5 days

If you do not receive your item on time, please contact us to check the status of the package on time: +84919 054 691
13. Technical services:
 If you have any technical issues, please contact us via email: 

autoshopretail@gmail.com

When upgrading software: If you cannot upgrade yourself, please install the Teamviewer remote control software, our technicians will assist you. Link to download the software: 

https://www.teamviewer.com/en/

. Install it on your computer, then give us the ID and password for remote assistance.
Reviews
Item Rating:
5
average based on 9
ratings.
---
You're reviewing "REMAPTOOL - Remap and tuning"